Sergiu Iva as Emil in Stealing Las Vegas.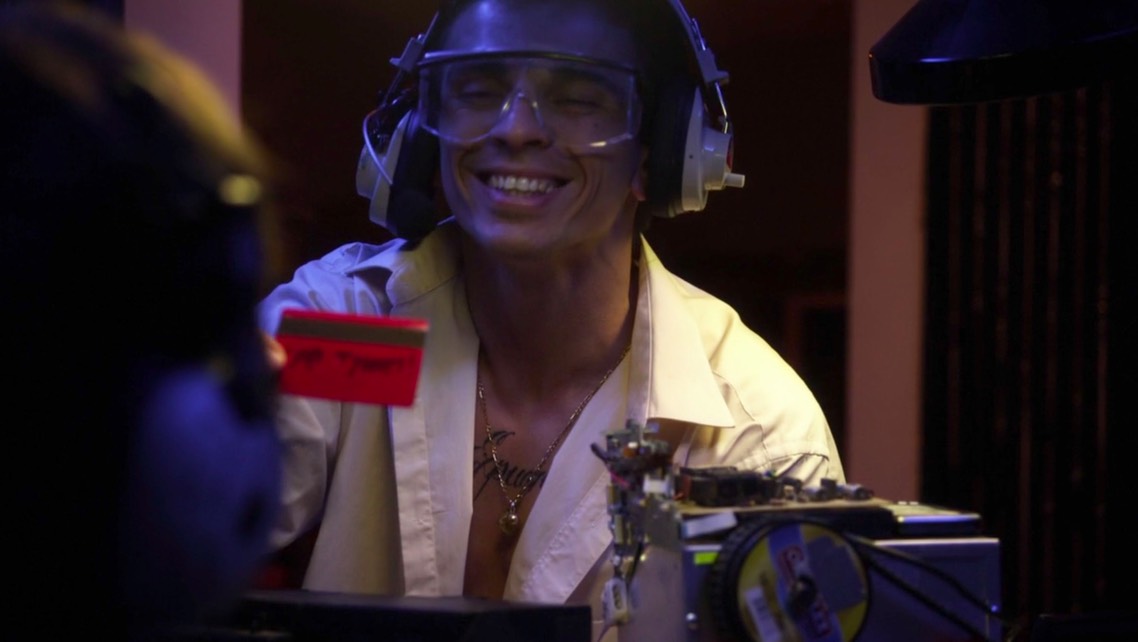 Corman Gets His Due at Vegas Film Fest
Jason Harris May 24, 2012 at 3:27pm
The Vegas Film Fest, which took place to little fanfare last week at the Suncoast Casino, might have been better served had it gone under the banner "The Roger Corman Film Fest." With screenings of the 2011 documentary Corman's World, which retraces the B-movie producer's entire career, plus the closing-night screening of the newest film he produced, Stealing Las Vegas, it would have been at least been a unique marketing ploy.
Stealing Las Vegas was co-written and directed by UNLV Film Department chairman Francisco
Menendez. The professor first met the producer at the final CineVegas Film Festival where Menendez was screening his film Primo. Corman took a shine to Prof M. and they talked collaboration. "He had originally called me to direct a gangster film to be rewritten for Vegas, but instead he sent The Killing—a Kubrick film I adore starring Sterling Hayden—and a one-line pitch," Menendez says. "It was great to have that much room to create." The one—line pitch was: "A working-class heist set in Vegas."
And there's the story for Stealing: Five disgruntled casino employees decide to rob their place of employment of the big $20 million jackpot. It's Ocean's 11 on the inside.
Like all Corman movies, it was made fast and cheap. Shot over three six-day weeks, all on crisp high-definition digital cameras, it's a slick-looking piece. Shot in conjunction with UNLV Film's Co-Curricular Film Project, Stealing probably had more film students working on it than any other Corman flick. Co-Curricular is a class/workshop/internship where visiting artists set up shop at the university, shoot a film or another project, and use the students as key crew members.
The film, which stars Eric Roberts as the bad-guy casino owner, is slated for DVD release in the fall. It co-stars multiple members of the UNLV film family. "Faculty members Michael Tylo, and Nate Bynum and Dana Moran Williams were invaluable," Menendez says. "Tylo manages to steal the scenes he is in."
While nothing is finalized, the professor is clearly eager to work with the legendary low-budget maestro again. "I have several ideas, even screenplays, but I want to hear his thoughts first. As you get older you realize that collaboration is what makes film fly, but having skin in the game (such as a germinal idea) can keep a project together and become more meaningful for everyone."
Whether or not that happens, this has already been a win-win experience. Corman gets a new
flick. Menendez steps up in the directing game. And, as he says, perhaps it was the students who came away with the most from the shoot. "In the end, I credit Dean Jeffrey Koep and Provost Michael Bowers for understanding the educational value and significance of teaming up with Roger, and for letting the Film Department create an incredible Co-Curricular experience that provides real experience for our students."
Menendez and Corman held two Q&As after the films were shown. Here are some highlights:
Fans of the explosion of indie music because of the Internet will be happy to know that Corman thinks movies will end up following suit in the next few years, going straight from producer to consumer with no distributor in between.
Corman has long been considered a radical. Earlier movies such as Wild Angels and The Trip had subtext dealing with issues of the day. If he was to tackle films like that today, he said, they would focus on economic inequality and the Occupy movement.
The Corman Film School, which is a term referring to the many major Hollywood players who got their start working for the producer, might be the thing he's most proud of. His "graduates," which include
Martin Scorsese, Jonathan Demme, and Francis Ford Coppola, have won just about every major Academy Award including Best Picture, Director and Actor and Actress.